Azerbaijani Cuisine Essay About Myself
Taugar
/
I'm not sure how to begin writing about my month in Azerbaijan. The landscapes were beautiful, the cities enchanting, the people so friendly. It was full of adventure and nothing at all like I expected it to be. So where do I start?
I'm still slightly overwhelmed trying to process it all. (Including the over 2,000 photos I took. Yikes.)
So I'll begin where I feel is most appropriate for me, given that my most burning question when I found out I was going to Azerbaijan was, "I wonder what the cuisine is like there??":
The food.
But instead of jumping straight into The 5 best things I ate like I usually do, this month I'm adding a little primer first.
***
First off, I was in Azerbaijan for work. So most of my meals looked something like this:
Endless caesar salads and tiramisu! How could I ever get tired of this? Right?
And when I wasn't eating at the hotel buffet for breakfast, lunch, and dinner, I was usually eating dinner at the stadium — meaning a bottle of water and a tiny cupcake, and if I was lucky some beetroot salad or cold pizza. (But by no means is that a complaint: most sports events don't provide media with free food at all — in London they were charging £1.05 for bottles of water. I was grateful for the free snacks.)
All I'm saying is, my understanding of Azerbaijani cuisine is limited. That said, I still managed to eat a few meals outside the hotel — and get a glimpse of Azeri culture in the process.
Second,
What is Azerbaijani cuisine?
If I had to describe Azeri food in four words, it would be: pickles, herbs, lamb, and sodium. 
Each meal would begin with a plate of 'starters' to be eaten with warm naan-like bread, including fresh herbs, cheeses, olives, onions, tomatoes, cucumbers, and an assortment of pickled stuffs: pickled onions, pickled cabbage, pickled olives. I even had pickled mushrooms at one restaurant.
(Funny enough, what I would call a pickle they called a white cucumber.)
Herbs are highly appreciated here; sometimes they would be brought out on an entire plate of their own. They smelled wonderful.
Then at least one of the main dishes would feature lamb. Even those that didn't still contained large amounts of sodium, the likes of which I'd never tasted before.
I am highly loathe to complain about food. I hate to do it and can't stand others who do. But I will admit that after a month in Azerbaijan, I was ready for a sodium break. (And this is coming from someone who has, on multiple occasions, sat down to a movie with a jar of pickles and demolished them in one sitting.)
Dinner was usually followed by tea, an important part of Azerbaijani culture and something I will definitely be writing more about in a separate post.
***
Right, so now that you have an understanding (or at least understand my understanding) of Azerbaijani cuisine, we can move onto the good stuff:
The 5 best things I ate in Azerbaijan
1. Piti soup, Sheki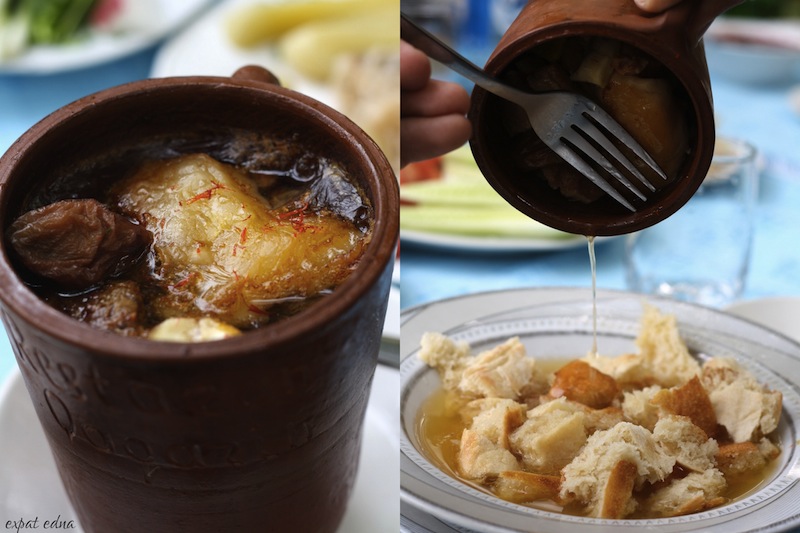 This. Oh my god this. By far, the best thing I ate in Azerbaijan. Piti is a soup prepared in individual earthenware pots that you 'disassemble' before eating. First you break apart pieces of bread into an empty bowl. Then you tilt your piti pot slowly so that the broth covers the bread; after that you let the rest of the ingredients fall on top to complete your dish — do these steps too quickly, and you'll be splattered with hot soup.
The recipe itself is simple: mutton, chickpeas, chestnuts, and potatoes. But the end result is a hearty and flavorful soup, in fact one of the most flavorful I've ever had in my life — most likely owing to the large portions of fat cooked in (see those white chunks in the photo above? Not all of them are bread).
2. Badambura, Baku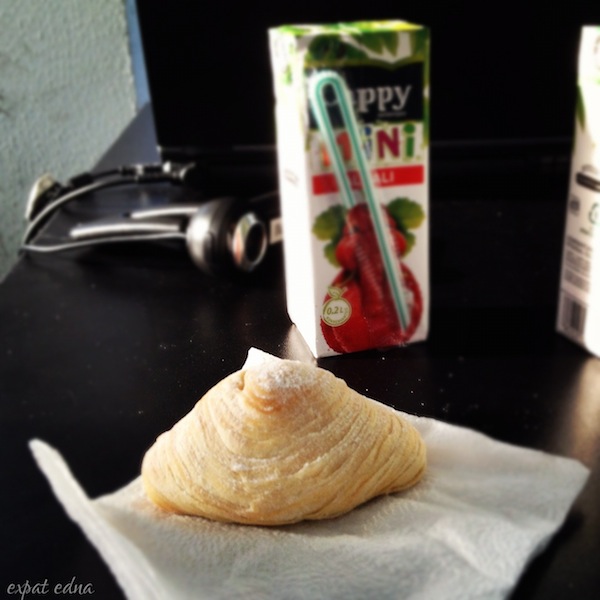 Badambura (pronounced boddum-boora) is a common Azerbaijani pastry that comes in various shapes and is filled with sugar, cinnamon, and finely chopped nuts. I got my first taste at the tournament accreditation center, of all places. While waiting for my accreditation to print, I mentioned in passing that I was hungry. The center volunteers promptly took the badambura and juice boxes out of their own lunch packs and insisted I eat. I don't know if it was the hunger or their kindness, but I never did find badambura as delicious as that first one.
3. Black tea and cherry jam, Baku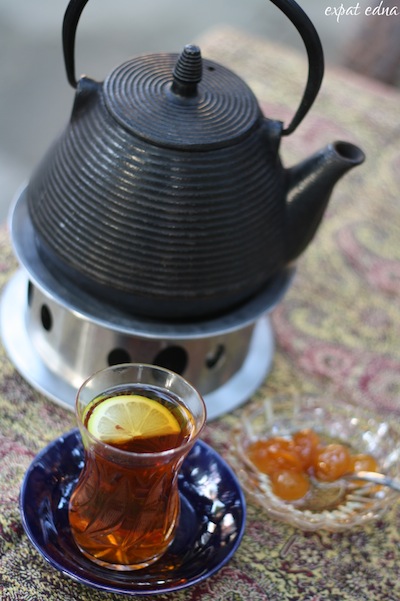 Like almost all of the meals on this list, there's a story behind this tea that makes it memorable. But the tea itself was also fantastic, which is not surprising as it is such a huge part of Azeri daily life; I'd often see men on the streets playing board games while sipping black tea from their small curvy glasses. There's a special way to drink it with the jam, but I'll get to that in another post.
4. Halva, Sheki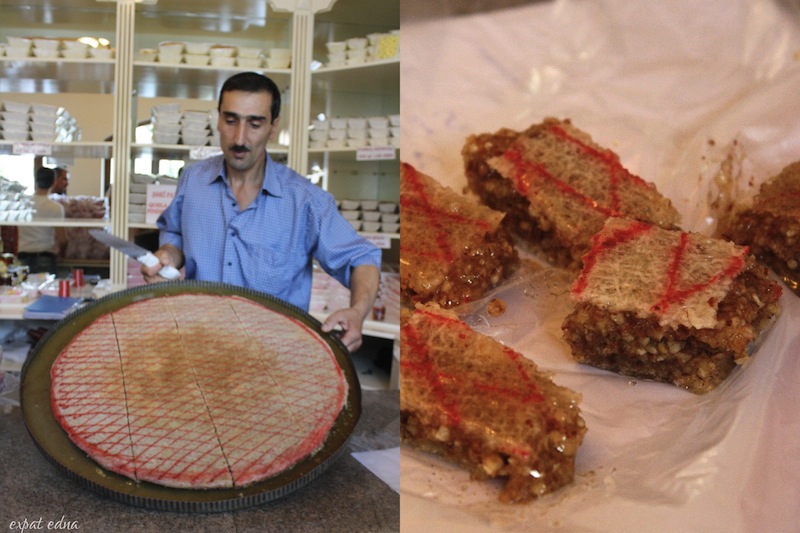 Sheki was only a day trip, so our stop into a local candyman's store lasted no more than five minutes. But in those few minutes I could see how popular this guy's halva was: the tiny store was teeming with locals, all jostling for the latest batch of halva. Boxes would disappear as soon as the man could cut his candy and fill them. By the way, halva — a dessert consisting of chopped nuts sandwiched by wafer-thin fried dough and absolutely dripping with honey — is a specialty of Sheki, so I feel like we got the best of the best here.
5. Caspian fish and smoked cheese, Gabala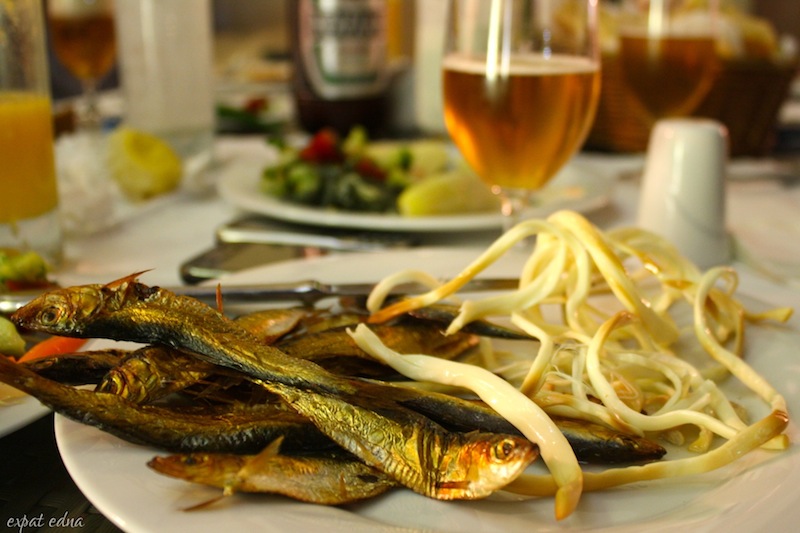 The salt content in these made for excellent beer snacks (just looking at this photo makes me want a beer). I didn't catch the name of the cheese, but it was offered at every meal, even breakfast. It was smoky and tough but there was something addictive about it; every time I gnawed on a string I felt like a horse with a salt lick.
The fish weren't as appetizing, but that might be because I first had to pull off their heads, then mind their bones as I devoured their tiny bodies.
Again, it's the memory of this night — drinking with local Azerbaijani guys who knew no English other than "Edna!" and "Vodka!" — that puts these salty snacks on the list for me (and far outweighs the salt content I had to ingest to get through the vodka).
What's your favorite dish here? And more importantly, who's up for an Azeri meal?
Given that Azerbaijani culture and language is Turkic in origin, it's not surprising that its cuisine also carries a strong Turkish influence. Doner kebabs are so prevalent on Baku's streets that you'd swear they were Azerbaijani by origin.
One thing is certain though. Azerbaijanis like their meat, with shashlik (barbecue) as the style of choice. One meal took us on the tour of the animal kingdom with seven different types of shashlik – ground meat, sturgeon (served with narsharab, a pomegranate sauce), beef, veal, lamb, pork, and even vegetables. As our friend joked, "See, we Azerbaijanis can make shashlik out of anything!" Although the meat was perfectly grilled, we were thankful for the plates of vegetables and fresh herbs to help balance our intake of flesh.
Luckily for our bodies, there's more to the Azerbaijani table than shashlik.
Favorite Azerbaijani Foods
Dovga
A warm soup made from plain yogurt, cucumbers, spring onions and occasional bits of ground meat. Although it's meant to be a starter, we found refuge in it as a light dinner.
Manti
Think large, Turkish-style ravioli stuffed with ground lamb. Served with plain yogurt – and if you are fortunate, a light chili pepper sauce – they are delicious.
Dolma
Grape leaves or vegetables stuffed with ground lamb, rice and spices, eaten with plain yogurt and ground pepper. Our best dolmas experience: the small, grape leaf variety served by our home stay family in the hills of Lahic.
Caviar
Beluga caviar is still king. Although its quantities are dwindling in Azerbaijan, caviar is still a big industry. The government controls the caviar business, but somehow a little bit always escapes and finds its way onto the black market. The best place to find it is at Taza Bazaar in Baku. From the moment you enter the market, you'll hear hushed whispers of "caviar, caviar" from the shadows as middlemen sidle up to you. Follow them to small makeshift tasting rooms whose coolers are filled to the brim with caviar tins. Sample 5-6 varieties at different prices. The 113 gram pots run from $25-$55, depending upon the type of fish and grade. Our favorite was Beluga caviar – smooth and the least fishy of the lot. No small wonder it's the most expensive.
Ayran
Refreshing, thinned-out yogurt drink, often flavored with dill and other herbs. It's pronunciation is similar to the favorite neighborhood theocracy, Iran. So much so that when a young boy in the market asked Audrey "Do you like ayran?" she responded, "I don't know. I haven't been there yet."
Kutab
A thin pancake whose varieties come stuffed with meat or with spinach and greens. Delicious alone, but if you find yourself at Chudo Pechka, get creative and team the green-stuffed with the baklijan (eggplant and garlic in sour cream) for your very own Azerbaijani veggie wrap.
Sheki Halva
Not the traditional dry halva you are used to, this regional variety resembles a pie with crunchy layers drowned in a sweet syrup.
Bakhlava
Although Turkish in origin, bakhlava has made its way to Baku, with some of the best served up by the local outpost of the Turkish bakery Gulluoglu. The rolled cylindrical variety are full of pistachio nuts, inside and out. Not too sweet, incredibly fresh, and terribly addictive.
The following traditional Azerbaijani dishes evaded our taste buds, either because of short supply or the wrong season.
Dushbara
Azerbaijani-style miniature manti. Teaspoon-sized mutton, onion and coriander filled ravioli served in a stock. This dish is common in the spring, so we just missed it during our summer visit. Travelers headed further to Central Asia, don't despair. You'll get your fill of dushbara in Kyrgyzstan, where they are called chochvara and served in a spicy, tomato-based broth.
Piti
Potatoes, chick-peas, vegetable and fatty-mutton stewed with fresh tomatoes or saffron. We're told that you are supposed to soak the juice up with the bread first and then mash the solids into a paste before eating. For some reason, every cafe we tried seemed to be out and offered us shashlik instead.
Word of caution: Some restaurants, especially in the regions, will present an extensive menu, leaving the customer excited by the possibilities of choice. Tame your excitement. More often than not, the only things actually available are shashlik or dovga. For some reason, waiters don't find it necessary to explain "we only have 3 of the 600 things on the menu" up front. Only when they take your order, do they deliver the bad news, leaving you grasping for alternatives.
Photo Essay – Azerbaijani Food and Markets
Recommended Baku Restaurants
Chudo Pechka: Next to Sahil Metro station on Bul Bul street. An international chain that is Turkish in origin, Chudo Pecka churns out savory and sweet pastries, kutab, pizzas and doner kebabs all day. Pay at the cashier first and then take your receipt to one of the half dozen or so food counters to collect your grub. Extraordinarily inexpensive compared to every other food option in Baku…a blessing for budget travelers.
Anadolu: On Rasul Rza Street #5 at the corner with Azerbaijan Street. Probably the best street doner kebabs in the city. Inside, Turkish and European dishes are on offer for reasonable prices.
Anur Restaurant: E. Elizada Street #3, close to the old town on the same street as Mozart Cafe. Good manti.
Gulluoglu Bakery: Istiqlaliyyet Kuc #35. Heavenly and addictive bakhlava!
Restaurant "PLANET": Mehseti Sreet #3, tel.: (+99412) 4234378. A ways outside the city center. It has a nice garden setting with delicious shashlik and live music.
About Daniel Noll
Travel and life evangelist. Writer, speaker, storyteller and consultant. Connecting people to experiences that will change their lives. Originally from the U.S. Daniel has lived abroad since 2001 and most recently has been on the road since 2006. When he's not writing for the blog you can keep up with his adventures on Twitter, Facebook, Google Plus and Instagram.
Filed Under: Food, World Cuisine GuidesDestinations: Azerbaijan, Caucasus Published on: