Cesar Chavez Essay Contest 2013
Mezshura
/
Program News
Note from the Director | 2013 Undergraduate Research Symposium |2013 Essay Competition | 2013-2014 Dissertation Award| Chiricú Journal | Latino Film Festival | Upcoming Events: Fall 2013
Note from the Director
Dear alumni and friends,
John Nieto-Phillips, Ph.D.
After a long hiatus, the Latino Studies newsletter returns with information about our previous year as well what's in store for the year to come. While our newsletter has been idle, we here at Latino Studies certainly have not! Here you will read about two events over the past two years that we have really been proud to present: the Latino Film Festival and our undergraduate symposium. Our course we are also proud of the achievements of our instructors, staff, and - most of all - students! The quality and character of our students never ceases to amaze me, and I trust you will find reading about them just as exciting.
We look to hearing your input about what you read here and we hope to provide these newsletters with greater frequency in the semesters to come!
2013 First Annual César E. Chávez Undergraduate Research Symposium
On March 21 and 22 of this year, Latino Studies offered Latino Studies minors and other undergraduates a chance to present their work at the first ever César E. Chávez Undergraduate Research Symposium. The symposium, organized by Visiting Assistant Professor Dr. Aide Acosta and Latino Folkore Instructor Minzti Martínez-Rivera, featured three panels of student presentations together with one poster session. Faculty from Latino Studies acted as discussants for the students' work within the panels. Each presenting student also received guidance from a mentor, who was also faculty or an instructor within Latino Studies.
Roberto Gonzales, Ph.D.
Attendees were treated to an excellent keynote address given by Dr. Roberto Gonzales from the University of Chicago. In his talk, entitled "Lives in Limbo: Undocumented Young Adults and the Conflicting Experiences of Belonging and Exclustion," Gonzales provided tangible examples of the struggles that young adults face when they are not allowed to continue their education due to irregularities with their immigration status.
The event was well received and earned the 2013 Program Award from the IU Latino Faculty and Staff Council.
2013 Latino Studies Essay Competition
Once again this year Latino Studies was pleased to invite submissions for the Best Essay in Latino Literature, Arts & Culture. The undergraduate award went to Ana-Christina Acosta Gaspar de Alba, who majors in English Creative Writing as well as a Latino Studies Major she created herself. Her essay dealt with "Issues of Latino Race and Identity in the Memoirs of Piri Thomas and Evelio Grillo." Tamara Mitchell, Ph.D. Student in Spanish & Portuguese as well as Comparative Literature, won the graduate student prize for her essay entitled, "La Guagua Aérea: The Puerto Rican Placeholder." Honorable mention was given at the graduate level to Javier Ramírez, Ph.D. Student in Communication & Culture for his essay entitled, "Mexican Cinema, Mexican Nationalism, and Race: A Case Study of the Exhibition of Angelitos Negros in San Antonio, Texas."
Winners received a $250 prize and the opportunity to publish in Chiricú. The winners were announced as part of the closing activities of the undergraduate symposium.
2013-2014 Latino Studies Dissertation Award
Javier Ramírez
The Latino studies Program has awarded its 2013-2014 Dissertation Fellowship to Javier Ramírez. Javier is a Ph.D. candidate in Communication and Culture who explores the exhibition and reception of Mexican cinema in the border region in and around El Paso Texas during the period from 1935 to 1955, considered the Golden Age of Mexican Cinema. More specifically, Javier seeks to shed new light on the role theaters that specialized in Spanish-language films played in creating a social space for Mexican and Mexican Americans to participate in Mexican nationalism and to assimilate into American culture.
Call for Submissions as Chiricú Journal becomes part of Latino Studies
Chiricú Journal Cover 2012
Chiricú is a journal initially founded in 1976 by a group of Indiana University students trying to define themselves through bicultural art forms from both Latin America and the U.S. From 1976-2011, it was supported by IU's Chicano-Riqueño Studies, led by Dr. Luis Dávila. Founded as a journal focused on Chicano-Riqueño-Cubano (Chi-ri-cú) identity and culture, it has broadened over the years, but still focuses on the core issues of cultural identity and cultural exchange.
Now the journal has become part of the Latino Studies Programs, directed by John Nieto-Phillips, where Chiricú wants to continue as a linguistic and cultural bridge for fraternal exchange published in Spanish, English, and Portuguese. We encourage all potential contributors to submit prose fiction, poetry, and essays, as well as drawings, photography and other art forms. Look for new innovations in publishing soon!
Download submission guidelines here. For further information, please contact:

CHIRICÚ
Indiana University
814 E. Third Street
Bloomington, IN 47405

Film Festival Poster
The 2012 Latino Film Festival
Story by Abel Correra
The Latino Film Festival & Conference took place on April 5th-7th, 2012 at the Indiana University Cinema. Films exhibited dealt with Immigration and LGBTQ issues as well as highlighted classic Chicana/o Cinema (e.g., films including Zoot Suit, Memorias del Subdesarollo (Memories of Underdevelopment), and black-and-white classics films that were once banned from Cuba). Most of the films were followed up by a Q&A with the directors. Alex Rivera's sci-fi film, Sleep Dealer, depicted a border in the future where bringing laborers to the United States will not be a problem anymore since you can do work from afar via a futuristic maquiladora (industrial sweat shop). Sleep Dealer is one of the few films that depicts Mexicans and the border in the future, which is Rivera's response to most futuristic films where minorities and Latina/os are non-existent in most big Hollywood films.
Additional films presented included Gun Hill Road, which illustrated how a transgender Latin@ teen had a hard time being accepted by his father played by Esai Morales. Gun Hill Road depicts how this youth navigates his relationships with family and friends, some of whom do not accept him, and others that support his gender preference (i.e., sexuality).
Dr. Charles Ramírez Berg, a University of Texas-Austin professor, provided the keynote address: How to Avoid Latino Stereotypes: Lessons from Media History. Dr. Ramírez Berg reminded us about how Hollywood continues to stereotype Latina/os and explored how, in response, Latina/o actors and filmmakers have subverted and resisted stereotyping. In his conclusion, Dr. Ramírez Berg gave examples of recent commercials as well as recent and older films that show how Latina/os have emerged into similar stereotypical roles as well as how they have also challenged stereotypical roles.
Upcoming Events: Fall 2013
A symposium entitled "Latinos & the Politics of Language" will take place on Friday, October 4, 2013, 2:00-4:45 p.m. in the Georgian Room of the Indiana Memorial Union. The program will include:


"Tesoros Latinos at Indiana University: Art Tour & Reception" will take place at the IU Art Museum, also on October 4, 2013, 5:00-6:30 p.m. BRAMUS will provide live music.
The University of California, San Diego, in partnership with the San Diego Cesar E. Chavez Commemoration Committee and San Diego Metropolitan Credit Union, is proud to sponsor the Fifteenth Annual Cesar E. Chavez Essay Contest for students in San Diego, Imperial and Orange Counties.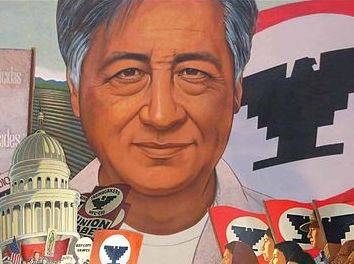 The contest is in honor of the life and achievements of the late civil rights and labor leader. Dedicated to non-violence, Chavez founded and let the first successful farm workers union in American history and was a principal figure in the Chicano Civil Rights Movement. He died in 1993, and his birthday, March 31 has been designated a state holiday.
The contest is open to students in grades 9 through 12.
Postmark and email deadline is FRIDAY MARCH 7, 2014.
A cash prize will be awarded to the author of the best essay in each grade-level category.
Click here for the application.